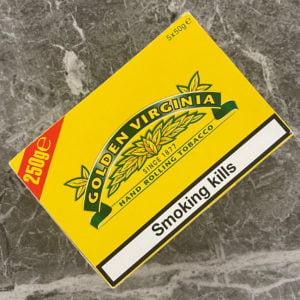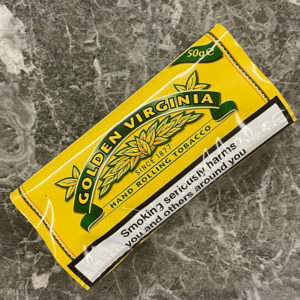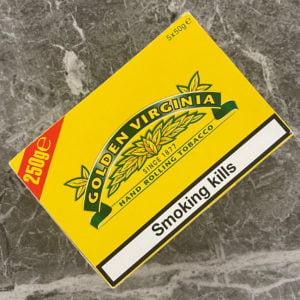 Sale -7%
Golden Virginia Yellow Original (Gold) 5x50g
In stock
United States dollar ($) - USD
Euro (€) - EUR

Pound sterling (£) - GBP

United States dollar ($) - USD

Australian dollar ($) - AUD

Chinese yuan (¥) - CNY

Saudi riyal (ر.س) - SAR

United Arab Emirates dirham (د.إ) - AED

Czech koruna (Kč) - CZK

Hong Kong dollar ($) - HKD

Hungarian forint (Ft) - HUF

South African rand (R) - ZAR
Compare
Description
Golden Virginia is one of the tobacco's that Imperial Tobacco have kept faithful to as it is still produced in the UK and the blend does not seem to have suffered to mass manufacturing or cost cutting. It is a little too strong for a good number of smokers but any smoker that does smoke it won't smoke anything else and it is the number one selling hand rolling tobacco in the UK. The golden Virginia original is produced from fine cut Virginia Burley and some Oriental leaves for added character. Golden Virginia Yellow 50g (5x50g) Original (Gold) Hand Rolling Tobacco.
Includes 5 packs of 50g pouches. Total 250 grams. 
Golden Virginia Yellow Original (Gold) 5x50g
In stock
United States dollar ($) - USD
Euro (€) - EUR

Pound sterling (£) - GBP

United States dollar ($) - USD

Australian dollar ($) - AUD

Chinese yuan (¥) - CNY

Saudi riyal (ر.س) - SAR

United Arab Emirates dirham (د.إ) - AED

Czech koruna (Kč) - CZK

Hong Kong dollar ($) - HKD

Hungarian forint (Ft) - HUF

South African rand (R) - ZAR
---
Customer Reviews
Perfect product 👌�
09/07/2020
Abdulrahman B.
The package is shipped since 14 days and yet to be delivered